Dr. J. Alex Miles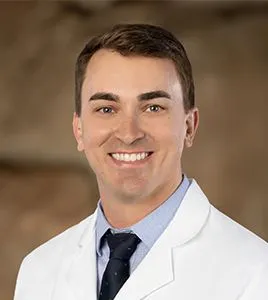 Dr. J. Alex Miles began his education by earning his bachelor's degree in Exercise and Sport Science at the University of North Carolina where he graduated with highest honors and highest distinction. After working at Central Dermatology Center as a medical office assistant, he went on to medical school training and graduated from the University of North Carolina. During his time in medical school, he also earned a Master's degree in Public Health. He completed a transitional year internship at the Grand Strand Medical Center in Myrtle Beach, SC before coming back to the University of North Carolina to complete his dermatology residency.
Dr. Miles, who will join Central Dermatology Center's team of physicians in September 2023, is interested in diagnosing and treating all patients. His is trained and plans to see pediatric and adult patients for their dermatologic needs, including medical dermatology, cutaneous surgery, and cosmetic dermatology. In his free time, he enjoys spending time with his wife and three kids. He stays active going to parks, exercising, and hiking trails, making sure to practice what he preaches - wearing sunscreen and a hat!
If you'd like to meet with Dr. J. Alex Miles, he will be seeing patients at our Cary and Chapel Hill office locations. You can book online, submit an appointment request, or call Central Dermatology Center at 919-401-1994 to schedule an appointment.