IG-SRT – Image Guided Superficial Radiation Therapy
IG-SRT, or Image Guided Superficial Radiation Therapy, is a non-surgical low energy radiotherapy for the treatment of non-melanoma skin cancer. It's a short treatment with no pain, no cutting, no downtime, no scarring!
IG-SRT is 99%-plus effective in curing the appropriate basal and squamous cell skin cancer (two most common types of skin cancer) and is performed by a specially trained Radiation Therapist.
Unlike traditional radiation that delivers high amounts of energy that penetrates deep into the body (and can cause severe skin reactions), IG-SRT exclusively targets skin cancers, delivering very low energy just below the surface of the skin. Reactions are typically mild and very small.
This treatment is performed by a specially trained Radiation Therapist in our Sanford, Chapel Hill, and Raleigh office locations.
If you have a suspicious lesion that might be skin cancer, book online, submit an appointment request, or call Central Dermatology Center at 919-401-1994 to schedule an appointment with one of our medical dermatology providers.
What To Expect
During your course of IG-SRT, you can expect the following:
First, your case will be reviewed by our Board-Certified Dermatologists to make sure you are a candidate for IG-SRT.
A knowledgeable staff of Medical Providers, a Radiation Therapist, and Medical Office Assistants are all in place to assist you during the course of your treatment.
You will review and sign an informed consent discussing treatment expectations.
A simulation where photos, ultrasound images, and treatment parameters are entered into a computer for documentation and reproducibility. (YOU WILL NOT RECEIVE TREATMENT AT THIS VISIT.)
An overview of your treatment schedule will be given (2x, 3x, 4x, or 5x/week for a total of 20 treatments).
You will generally be treated by the same Radiation Therapist each time you come in, but all the Radiation Therapists that would cover time for your normal Therapist are equally trained and qualified.
Your Radiation Therapist will evaluate your skin reaction daily, and once per week you will be seen by a Central Dermatology Center Medical Provider for evaluation.
Your care team will recommend medication as needed for skin reactions, change your treatment (if necessary), or place you on a break for a short period of time if the skin needs some rest from treatment.
Your skin will heal up quickly after your course of treatment is completed.
You will then come back in for a 2 week and a 6 week follow-up appointment to check the progress of your treatment site.
Learn more about Image Guided Superficial Radiation Therapy in the video below.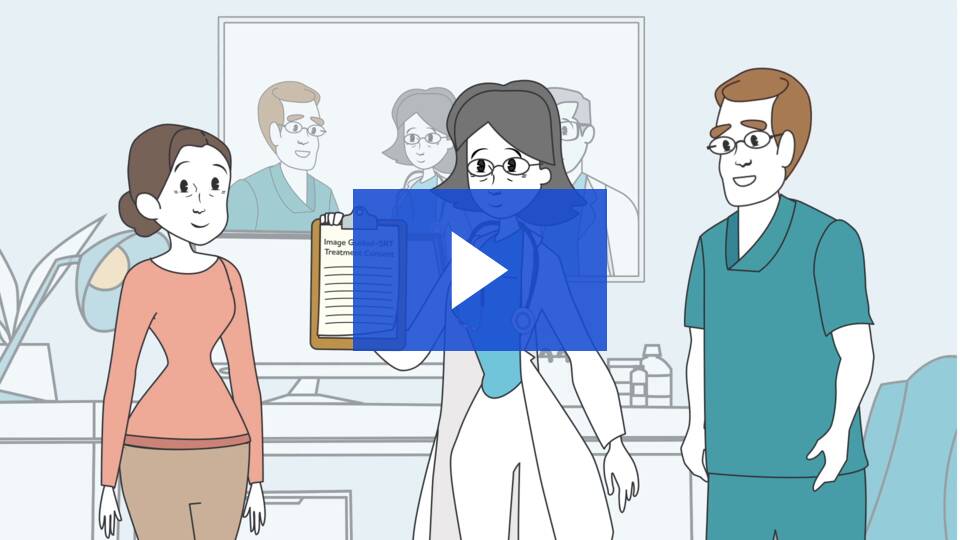 GentleCure Informed Consent Video - Pratice Videos
Should I Have IG-SRT?
The most recent large-scale study on IG-SRT shows a cure rate of greater than 99%. It's a safe procedure with very few potential complications. Because it does not involve surgery, there's less potential for disfigurement or scarring.
So why wouldn't everyone diagnosed with skin cancer have IG-SRT treatment?
Here at Central Dermatology Center we always consider surgery as the best treatment for certain types of skin cancer. That being said, there are patients who may not be the best candidates for surgery. And, although it's a versatile, extremely effective procedure, IG-SRT treatment may be especially ideal for:
Patients who are taking blood thinners
Patients who, for various reasons, may not be able to tolerate a surgical procedure
Patients who have extremely thin skin
Patients who have lesions on the lower legs or other areas of the body where healing is more difficult
Patients with a large lesion on a small area of the body (for example: IG-SRT can help preserve a patient's ear where we can tell they would have otherwise had extensive surgery and disfigurement.)
To learn whether you are a candidate for IG-SRT treatment, we encourage you to contact us for an exam.